About Mt. Fuji Lantern Floating
Lantern Floating is a Japanese summer-end tradition at the Obon festival, a period of respect for ancestors and those who passed away. People send prayers and remembrances to their ancestors and those loved ones.
Mt. Fuji Lantern Floating at Lake Kawaguchiko has a history of 38 years since 1981. It is a ceremony where all can come together for a personal and collective moment of remembrance, reflection, and offering gratitude to those who have gone before us. All is welcome to write message on lantern and float own lantern.
More than 1,200 lanterns carry prayers and hopes for a world of harmony and peace.
Float Your Own Lantern
You are invited to build and float your own personal lantern as you share your hopes for a world of harmony and peace. You can write on the lanterns personal messages to people you love, your individual dreams and aspirations, or your hopes for the world – anything that comes to mind. Collectively, the lights of the lanterns will carry these wishes and messages out onto the serene lake.
Please feel free to stop by the Lantern Request Tent from 2:30 p.m. to 7:00 p.m. We offer one lantern per family or group on a first-come, first-served basis. Participation is free, and any voluntary donations received on the event day will go to help local communities.
Location Map
Bus Timetable

(20-30 minutes)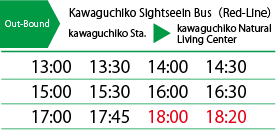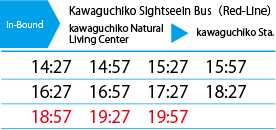 *Times in red are for Tuesday, August 16, 2022 only.
*Timetable is subject to change.
*There will be staff assistance and signs at Kawaguchiko Station.
*The one-way cost is 490 yen.